Sofa bed is one of the most popular items you'll find if you are looking for multi-purpose furniture for your home. But actually what is a sofa bed? Clever and versatile combination of a sofa and a bed, a sofa bed instantly provides a comfortable sleeping space. Basically, a sofa bed is a couch that can be easily converted into a bed, which saves space and makes your life easier at home. Sofa bed is a perfect solution for small living spaces, small bedrooms, dorms, apartments, and condos.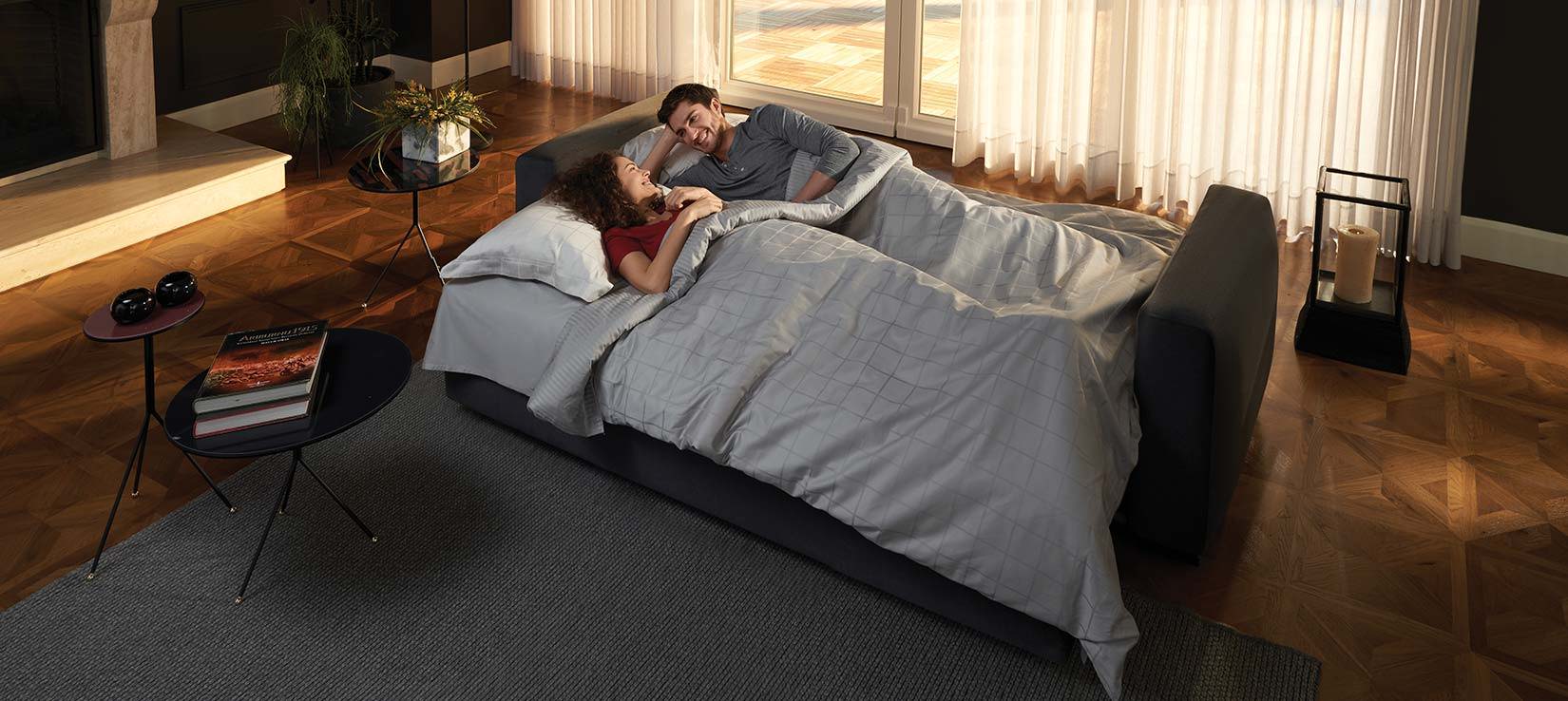 "Sealy® sofa bed is so inviting you'll want to sit (or sleep) on it all day!
Real sleep technology from the sleep experts."
Why People Love Sealy® Sofa Beds
Rated #1 most trusted mattress brand by Americans, discover Sealy® difference with any other sofa beds in the market. At Sealy®, we only offer the best of the best sofa beds for you and your guests! Made of sturdy and durable materials to ensure the comfort, support, and durability that you've come to expect from Sealy®.
1. Space Saving Features
Sealy® sofa beds are perfect solutions for accommodating overnight guests in your home if you don't have extra bedrooms or don't want to subject them to air mattresses. Also, if you have a small living room or bedroom, our sofa bed is a must-have. You can easily convert it into a comfortable bed at night while it is also a chic modern sofa for the day.
2. As Comfortable As a Real Bed
Gone are the days when sofa beds were the pieces of furniture you felt like sleeping on nails. Great news, with every Sealy® sofa beds, we have applied 140 years of bed making experience, engineering, and manufacturing excellence. Sealy® sofa bed is constructed using Sealy® pocket coils which adapt to your every movement. No more uncomfortable sofa bed mattresses and restless nights. Real sleep technology from the sleep experts.
3. Versatile Living Room Furniture
Lounge, recline, sleep, repeat. Imagine fashion-forward multi-functional furniture design that converts to beds. Or better yet, think of beds that convert to sofas. Or chaise loungers. Or love seats. Or chairs. Sealy® sofa bed is so inviting you'll want to sit (or sleep) on it all day! All you need is a throw blanket and enjoy lounging around or host a movie night.
4. Easy to Unfold and Move
Sealy® sofa beds are remarkably easy to use. They open and close effortlessly. Easily converted from sofa to bed in seconds. Moreover, you can move them around the house without hassle.
5. Need Extra Storage Space? Yes Please!
Who does not need extra storage space? Many of Sealy® sofa beds model come with hidden storage. You can store linens, blankets, and all that household clutter you've gathered and don't have a place for inside your sofa bed. Tidier living room with a stylish sofa bed, who doesn't want that?
6. Strong & Durable Structure
Beautifully crafted with a strong hardwood or metal frame construction and sturdy legs ensure that Sealy® sofa beds offer a complete and practical seating that lasts for years to come.
7. Premium & Easy to Clean Fabric
Sealy® sofa bed's premium fabric is designed for everyday use. It's durable, resistant to wrinkling, crushing, and fading. Convenient and easy to clean to keep a new look for a long time. Use a damp cloth with a light, water-based cleaner with no detergents.
8. Wide Range of Style Options
Do you think regular sofas have more style options than sofa beds? At Sealy®, we have various style options, that suit your needs just like regular sofas. Armless design? Check. Full or queen size? Check. 3-seater? Check. And many more...
Our sofa bed is great value for what you spend, because you can use one single piece of furniture for multiple purposes: seating, lounging and sleeping.